Ballet
Our qualified and RAD Registered Teachers are Sara Ridley and Charis Ridley BA Hons (Dance Education).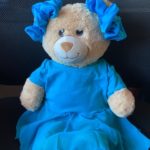 We offer classes from the age of 2.5 years. Our Tots Dance Class* at Heston gives a fun, music and movement class for little ones, introducing them to the wonders of dance with the use of pom poms, feathers and scarves.  Darcy has come out of isolation and returned to class. She goes home with a child each week. The children write in a notebook the adventures they have with Darcy whilst she is with them. From 4 years, children move to Pre-Primary Ballet and start on the RAD  ladder. Assessments, Class Awards and Examinations are available to all children who take ballet. Vocational classes can be taken alongside graded dance classes from the age of 11.
We currently have examination/assessment classes from Pre-Primary through to Grade 8 and Intermediate.
When looking for the right ballet class for young children, age is the first consideration. 2.5 – rising 4 years would start in Tots Dance  (Heston only). 4-5 years would start in Pre-Primary* and 6 year olds in Primary.
*The Hayes branch of the school does not currently have a Tots Dance class, children from 4 years may start in the Pre-Primary class at 4.15pm on a Friday. We will trial children from the age of 3 and depending on their response during the lesson, we would have a conversation with parents to make the right decision for the child and the class.
Older children are also made welcome, with or without prior training.
If you need advice about classes, please don't hesitate to contact the office for assistance.
Freephone 0808 118 0705
Mobile 07961 153666
Email: babeldance83@gmail.com
Sara Ridley, the Principal, if unavailable when you make contact will respond to you as soon as she is able.