24 children and students travelled to Theatre Royal, Windsor to perform with Wandershow Productions in "Making Memories" and that is exactly what they did!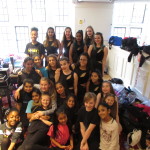 A great day out. They performed Celebration and Silencio with great passion and enthusiasm. Sara, with Vicky, Maria and Neha looked after the children, their only misgiving was the 4 flights of stairs to and from the stage! Their legs are not as young as they were, particularly Sara's!
Melissa Dobson and Tavneet Matharu both celebrated their birthdays whilst at the theatre. Birthdays they will never forget. Thank you to Jasmine Kochhar who very kindly brought a chocolate cake along, which everyone enjoyed.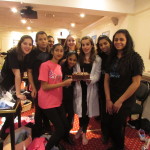 Sara described this as a warm-up to our main event "Dance in Time" to be performed on the 19th March 2017.
Congratulations Babel girls, you did yourselves and the school proud