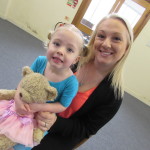 In November 1983, Sara opened the doors to Babel at Cranford Community School. A little girl, Suzanne Luff was the very first student to walk through those doors. Unfortunately, she didn't like being on her own, but it wasn't for long and in the January 1984, a steady trickle of newcomers joined her.
This is what Suzanne has to say now……
"When I think of my childhood I think of Babel. I made many good friends and have wonderful memories.After returning home from living in Australia I'm so glad my daughter, Isla is now able to attend. She seems to love it as much as I did, although her first class was slightly larger than mine! Sara not only teaches dance but she encourages and nurtures children to fulfil their dancing dreams. X"
Isla has been joined by Jasmine, daughter of Lucy White and on her way is Niamh, daughter of Aine Hosey. A reunion of Mothers, their children perhaps will forge the same friendships.